Murdered U.S. Ambassador Stevens a Muslim?
American chief at Benghazi possibly had secret faith (sufism)
Murdered U.S. Ambassador Chris Stevens had a "very romantic relationship" with Islam, according to a Libyan official who was a personal friend to the late American representative to Benghazi.
"What I am saying is that his Excellency, the late ambassador, had a very personal private matter, a very romantic relationship with the mystical side of Islam," stated Sabri Malek, the spokesman for the Democratic Party in Libya, in an interview today.
Malek was speaking on "Aaron Klein Investigative Radio" on New York's WABC Radio.
Continued Malek:
"Many Westerners find themselves converging on a romantic relationship with the mystical side of Islam.
Sufism, it's a very unique corridor. It allows you to find out more beyond your ego fears. So that kind of mysticism was very attractive to the ambassador.
"And he indulged through various Sufi channels," said Malek. "Because Libya is one of the richest North African states in the source of such schools."
Audio of the interview can be heard below:
Malek previously ignited a firestorm in the blogosphere in September 2012 when he stated on Iran's Press TV that Stevens was a Sufi and a "Muslim himself."
During that 2012 interview, Malek said called Stevens "a friend of Islam."
"Indeed, he was a Muslim himself," he continued, speaking on Press TV.

"He followed the spiritual Islam. He was a Sufi."
Asked by Klein whether he had proof that Stevens converted to Islam, Malek replied, "There is no need to be so specific. It is irrelevant."
Malek told the radio host, "I cannot access his heart to find out whether he did the ideological shift. You need to ask him. However, I know for a fact that he was a recipient of this kind of sacred knowledge."
Malek described his personal relationship with Stevens. He said the late U.S. ambassador was "never" afraid for his life when he saw Stevens in person.
"He always felt that he belonged to the Libyan community and the society," he told Klein. "He was one of us. He had a habit of going down the local street … going to a very famous bar, it's like a fruit bar where he takes his milkshakes. He goes to his local cheeseburger … hardly with any security."
Malek said he once personally asked Stevens to leave Hotel Al Mehari where the ambassador was staying after Libyan officials received intelligence indicating a possible attack against the establishment.
"And he actually declined (to leave)," recalled Malek. "He said, 'No. I am staying with you guys; if you are here, I am here.'"
ùùùùùùùùùùùùùùùùùùùùùùùùùùùùùùùùùùù
Iran: Clashes highlight 'demonization' of Sufi Muslims
Publisher

Radio Free Europe/Radio Liberty

Author

Ron Synovitz






Cite as

Radio Free Europe/Radio Liberty, Iran: Clashes highlight 'demonization' of Sufi Muslims, 16 November 2007, available at: http://www.refworld.org/docid/4742edf92d.html [accessed 1 June 2013]

Disclaimer

This is not a UNHCR publication. UNHCR is not responsible for, nor does it necessarily endorse, its content. Any views expressed are solely those of the author or publisher and do not necessarily reflect those of UNHCR, the United Nations or its Member States.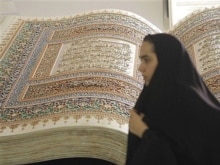 A sculpture of Islam's holy book at Tehran's annual Koran exhibition in September (AFP)
By

Ron Synovitz
November 16, 2007 (RFE/RL) –
Clashes in Iran this week between security forces and followers of a mystic Sufi order have underlined what international human rights groups say is the increasing "demonization" of Sufi Muslims in Iran.
Dozens of people were injured and arrested during the November 11 clashes in the western city of Borujerd, and parts of the Sufis' monastery there were destroyed. Official media said the clashes came after Sufis attacked a Shi'a mosque in the city where clerics had been criticising Sufism.
Sufism is growing in popularity in predominantly Shi'ite Iran, though officials and conservative Shi'a clerics have said it is a deviation of Islam.
Centuries-old Tension
Sufism is a mystic tradition within Islam in which individuals pursue absolute truth and divine wisdom through mystic revelation. It is best known around the world for its "whirling dervish" dances and for the mystical poetry of 13th-century Persian poet Molana Jalal ad-Din Rumi.
In fact, Sufi Muslims believe that rituals involving dance, music, and the recitation of Allah's divine names can give them direct perception of God.
But although many Sufi orders strictly observe Islamic practices and beliefs, some conservative Shi'a clerics in Iran say Sufism is a danger to Islam.
Indeed, there have long been tensions in Iran between Sufism and more orthodox traditions of Islam. Observers such as the human-rights group Amnesty International say these tensions have worsened – and state tolerance for Sufi groups in Iran has diminished – since the establishment of an Islamic republic some 28 years ago.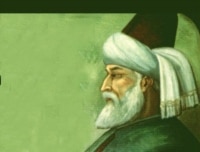 The poet Molana Jalal ad-Din Rumi (public domain)
And since Iranian President Mahmud Ahmadinejad came to power in 2005, Iranian authorities appear to be increasingly confronting Sufi Muslims.
Abdol Karim Lahiji, a prominent Iranian lawyer who directs the Paris-based League for Defense of Human Rights in Iran, tells RFE/RL that the divisions between Sufis and Shi'a in Iran can be traced back more than 1,000 years.
In particular, Lahiji notes that the approach toward Islam of Sufi orders – known as Tariqas – differs markedly from that of Iran's conservative Shi'a clerics, who follow a strict interpretation of Islamic rules known as shari'a law.
"First it's the historical problem between two kinds of thinking about Islam," Lahiji says. "It's two schools – the school of shari'a and the school of Tariqa. Tariqa means Sufis [orders] and all the mystic schools. In all our history, it was always a fight between two kinds of interpretations of Islam. The Sufis were more tolerant of freedom of speech and freedom of religion. The [shari'a] people were more aggressive and less tolerant of the other interpretations of Islam."
The Islamic Revolution, which brought Iran's conservative clerics to power in 1979, also established shari'a as the basis of all laws in the country.
"For that reason, the other sections of Islam – like Sunnis, like Ismaili, like Sufis – not only haven't the same rights in the constitution and the political and judicial systems of Iran, they aren't considered real Muslims," Lahiji says. "For that reason, all kinds of persecution of these kinds of Muslims are permitted in Iran."
In broader terms, Lahiji sees the demonization of Sufi Muslims in Iran as a strategy by Ahmadinejad's regime aimed at discrediting individuals or groups that pose political challenges to the power of Iran's conservative Shi'a clerics.
"It's not only about the other sections of Islam. It's all the sections of society. In the last two years, the civil society of Iran – the journalists, the students, the women, the [labor unions], the teachers, the universities – all are victims of these very, very aggressive politics," he says. "And the other Muslim groups are [treated] the same. It's the result of the political aggression of Ahmadinejad."
Monastery Bulldozed
The November 11 clashes pitted police and Basij paramilitary troops against members of the largest Sufi order in Iran, Nematollahi Gonabadi.
Nematollahi Gonabadi is the Sufi order with teachings that most closely resemble Shi'a Islamic traditions. Nevertheless, Iranian security forces in the end used bulldozers to demolish parts of the Sufi monastery in Borujerd, known as Hossaini-ye Nematollahi Gonabadi.
There are conflicting reports about what led to the clashes, none of which could be independently confirmed. However, by all accounts, scores of people were injured and arrested during the confrontation.
Whirling dervishes performing in Istanbul (AFP)




Iran's official state-run news agencies says Sufis attacked a Shi'a mosque, the Masjid an-Nabi, that is next door to their Sufi monastery.




Those reports say the Sufis were angry about criticism from Shi'a clerics that were being broadcast from loudspeakers in the mosque's minarets.




Sufis in Borujerd describe events differently. They say Shi'a clerics feel threatened by the growing popularity of the Sufi movement in Iran, especially among young people.





One Sufi follower in Borujerd told Radio Farda that Iranian authorities had invented stories about the Sufi attack on the Shi'a mosque in order to justify the destruction of the monastery.




"[Authorities] spread a rumor that Sufi mystics had attacked Masjid an-Nabi and injured one of the clerics there," he said. "This very rumor gave an excuse for the [paramilitary Basij] to say that they must seek vengeance. By mobilizing forces around the city, they somehow gathered people together and attacked Hossaini-ye, [the Sufi's monastery.] They attacked first with sticks and stones, demolishing the ceiling of Hossaini-ye. Then, when they entered Hossaini-ye, the Sufis and dervishes resisted and forced them back out of the building. Then, they attacked again – this time using tear gas and colored gases. So they occupied the Hossaini-ye. They burned it and destroyed it. They are persecuting Sufis for their religious beliefs."





Leaders of other Sufi orders contacted by RFE/RL have declined to comment on the Borujerd dispute, saying they fear their followers will be persecuted in Iran if they issue political statements about Ahmadinejad's regime.





'Threatening Atmosphere'




The U.S. State Department says respect for religious freedom in Iran is extremely poor and has been deteriorating since Ahmadinejad came to power – especially for Sufi Muslims and members of the Baha'i Faith.




In fact, just a week before the violence in Borujerd, Iranian Deputy Culture Minister Mohsen Parviz issued a statement saying there is no place for the promotion of Sufism in Shi'a-dominated Iran.





Parviz's remarks followed complaints from Shi'a clerics about state television coverage of the Rumi International Congress, an event in Iran commemorating the 800th anniversary of the birth of the Persian poet and mystic Rumi.





Parviz, who also served as executive director of the committee for the Rumi Congress, said the clerics' complaints focused on news broadcasts about performances of Sama, the Sufi practice of gathering to listen to religious poetry that is sung and often accompanied by ecstatic dance or other rituals.





The U.S. State Department says Tehran's actions and rhetoric have created a threatening atmosphere for nearly all religious minorities in Iran.




It also says Iran's government-controlled media has intensified negative campaigns against religious minorities since Ahmadinejad's election.





It notes that in late 2005, a shari'a scholar in the holy city Qom, Ayatollah Hossein Nouri-Hamedani, called for a crackdown on Sufi groups after labeling them a "danger to Islam." Since then, articles attacking Sufis have proliferated in Iranian national newspapers.





In February 2006, police closed a building in Qom that was being used as a house of worship by Sufis from the Nematollahi Gonabadi order. When Sufis responded by staging a protest in Qom, clashes broke out and Iranian authorities arrested more than 1,000 people.





Local officials in Qom said the Sufis had illegally created a center of worship and refused to leave it. They also said that some of the Sufis demonstrators had been armed.




But representatives of the Sufi order in Qom have denied the charges, saying they have been targeted for persecution because of the increasing popularity of Sufism



.
(Radio Farda's Alireza Taheri contributed to this report)


Copyright notice: Copyright (c) 2007-2009. RFE/RL, Inc. Reprinted with the permission of Radio Free Europe/Radio Liberty, 1201 Connecticut Ave., N.W. Washington DC 20036

ùùùùùùùùùùùùùùùùùùùùùùùùùùùùùùùùùù